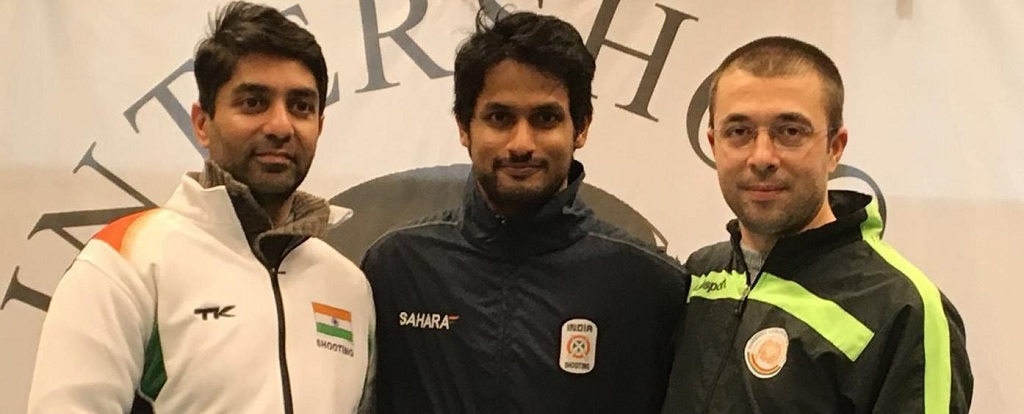 (L) Abhinav Bindra
( 2008 Olympic Champion )
(R) Alin George
( 2012 Olympic Champion )
39th Inter Shoot International Shooting Competition, The Hague, Netherlands.
About Us
Established by renowned shooter, National champion and international Medalist Rakesh Manpat in 2017, Elite Shooting Academy was founded in view to promote shooting from the grassroots level and within a year of its founding, we were able to bag a Gold and Bronze medals at the all India school Nationals. It's a testimony to our understanding of the sport at the grassroots level. These kids who won, have gone through positive changes in regards to personality development, which the parents are also proud of. As an academy, we aspire to carve a niche in honing the skills for the grassroots level kids and through the sport. It enables their key skills and focuses on their personality development which will make these kids not only winners in the sport or on the firing lane but also in all endeavors they take-up outside of the sport in education and beyond .
Elite Shooting Academy is a 10 meter Air rifle and Air Pistol state of the art facility with our high-performance centers located at Indiranagar and PDCSE. We intend to provide an ideal platform for aspiring youngsters as well as professionals, keeping in mind the requirements that the sport demands at the international level. We are also open to the public and sports enthusiasts who want to try their hand at the sport for recreation. We aim to produce champions using the latest technologies in marksmanship and raise that Tricolour high on the podiums across the globe. We also extend our services to schools to give them an exposure to the world of air rifle/air pistol and competitive sport shooting.